Parc Canberra, a new executive condominium, by experienced EC Developers. Last two executive condominiums were well received by buyer and sold out quickly. Hundred Palms Residences in 2017, 531 units (100%) were sold in just 7 hours while Rivercove Residences in 2018, 500 units (80%) sold on the first day. This has also been featured on ST Today.
Parc Canberra by Hoi Hup Realty and Sunway Developments located along Canberra Walk with site area of 18,040.6 sqm. Expected TOP 9 September 2023 with 496 units ranging from 2BR with study (one and only unit) 829 sqft, to 5BR with utility and yard 1,453 sqft, (11 units only).
Parc Canberra is just a mere 300m away from Canberra MRT station. Land within immediate vicinity to an MRT station is rarely set aside for executive condominium, with a side gate located at along the Canberra Link provides a better entrance experience for pedestrian entry.
The Clubhouse propogates an Australian inspired café culture and laidback outdoor living. Various open decks, pools and pavilions dotted around the communal landscape invite users to while away a pleasant and slow afternoon while soaking in the warm and relaxing atmosphere.
Black frames, brick walls and pitched roofs are introduced to the communal facilities to create a casual outback café aesthetic that is bold and yet simple, and softened by lush greenery cradling these spaces.
All 10 blocks enjoys a north-south orientation that maximize natural ventilation. Penthouse units for all types comes with high ceiling of 4.5m at living and dining.
Its unique layout for type D2, a 4-Bedroom with utility & yard of size 1,184 sqft comes with kitchen opening to the balcony, promotes a different laid-back and outdoor lifestyle. Its functional and efficient layout emphasizes liveable space. All master room can easily fit a king-sized bed while most of the 2nd and 3rd bedrooms can fit a queen-sized bed. Large format tiles selected for kitchen counter and bathroom vanity. 84% of Parc Canberra unit type comes with a utility room.
Parc Canberra boasts 5 different zones namely Arrival Zone, Active Zone, Family Zone, Fitness Zone and Nature Zone with 4 different pools like 50m lap pool, Spa pool, Family pool and Fun pool, facilities designed for all ages and generation.
Parc Canberra is a well thought out development with curtain wall façade, grand entrance with clear distribution of pedestrian and vehicle paths. Covered walkway throughout the development
The upcoming North-South corridor will connect the north to the city centre. 21.5km long route with 16 entrances and exits. It will intersect various expressways, including the SLE, PIE and ECP and expected to cut travelling time for motorist significantly. It is not just an expressway but and integrated transport corridor that will include cycling trunk routes as well as the continuous bus lanes, the first of its kind in Singapore.
The North-South corridor will also be Singapore's longest transit priority corridor with dedicated and continuous bus lanes and expected to shave some 10 to 15 minutes' travel time from each bus trip, thus catering to non-motorists too.
Towns that will benefit include Yishun, Ang Mo Kio, Woodlands and Sembawang. The North-South corridor is expected to be completed by 2026.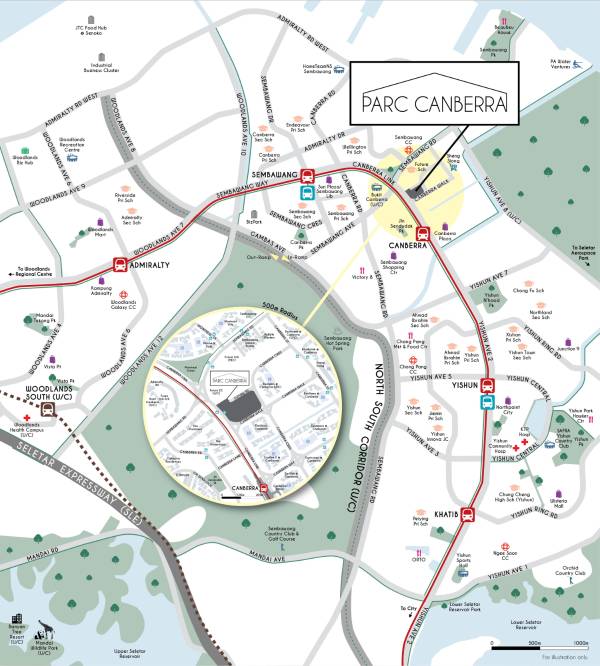 Bukit Canberra, an upcoming integrated Hub, almost directly across the road from Parc Canberra. A 12-hectare integrated Bukit Canberra will have a Town Sport Centre features under the Sports Facilities Master Plan with facilities such as a six lane sheltered swimming pool, an eight-lane lap pool, a wading pool and a fun pool for children. Indoor sport hall with 500-seat gallery for sports like basketball and badminton. An inclusive gym, an outdoor forest gym plus a fitness studio. Targeted to complete in 2020, it is set within a lush and naturalistic environment
Bukit Canberra will also house healthcare facilities such as polyclinic and a senior care centre, that will provide a range of health and social care services for seniors, including day care and rehabilitation services.
The hub will also have a hawker centre which is conveniently located and easily accessible to the rest of the development, featuring over 40 stalls and more than 700 seats in a park-like environment, as eating spaces are organised to incorporate views of the lush greenery. A place for community bonding and social interaction.
Canberra Plaza, a new generation town centre, aimed to be a one-stop destination for all generations, is right next to Canberra MRT station. It features amenities such as an event plaza, a water playground, a wide range of retail choices, foodcourts, restaurants, clinics, enrichment centres and a supermarket. Not to mentioned plenty of retail options nearby such as Sunplaza just one stop away from Canberra Plaza and Sembawang Shopping Centre which houses Giant Hypermarket, Daiso Japan, and many F&B food choices. . A 6 minutes drive to the nearest Chong Pang Wet Market, a well known neighbourhood market with many dining options. Parc Canberra, a home within walking distances to most of your daily needs.
Established Mall Nearby such as Northpoint City 1-stop away, Causeway Point 2-stops, Ang Mo Kio Hub 4-stops while Junction 8 in Bishan is 5-stops away from Canberra MRT station.
Sembawang Hot Springs which has just re-opened on 4th January 2020 after a $4.3 million redevelopment, expanding from its original 0.1 hectare to 1.1 hectare. Featuring a hot spring, heritage trail, water play and dining options.
Sembawang Park, a tranquil park away from the bustle of the city. With the beautiful beach side and a stunning view, it is popular fishing ground and a great place for family and friends to get together.
Khoo Teck Puat Hospital a 10 minutes drive away combines medical expertise with high standards of personalized care, set within a healing environment, providing care that is good enough for you and your loved ones. Khoo Teck Puat's designed is focused on providing a hassle-free experience for patients.
Mandai to become an eco-tourism hub featuring 2 new wildlife parks, eco-accomodation. Mandai now houses the Singapore Zoo, the River Safari and the Night Safari, and as early as 2020, they will be joined by two new attractions, the Bird Park, which will be relocated from Jurong, and the new Rainforest Park.
North Coast Innovation Corridor, innovative, economic corridor with ideas, creative design and new technologies to create retail choices, and job opportunities. There are plans for major development in the north. Made up of Woodlands Regional Centre, redeveloped Sembawang Shipyard, future Seletar Regional Centre and Punggol Creative Cluster. Provide live-work-play options for residents.
With over 100 hectares of developable land new spaces for business, industry, research development, and learning and innovation will bne introduced over the next 15 years, Woodlands Regional Centre is poised to take its place as the largest economic hub in Singapore's North region.
By 2024, Sembcorp will be relocated to Tuas. New waterfront land will free up along Sembawang coastline and set to be part of North Coast Innovation corridor.
Seletar Aerospace Park can grow to twice the size of Tampines Regional Centre. Another major employment node for people living in the North and Northeast. Large MNCs have already located at Seletar Aerospace Park including Rolls Royce, ST Aerospace, Airbus Helicopters, Bombardier, Fokker Services etc. Seletar Aerospace houses a passenger terminal that can handle up to 700,000 passengers a year. The Oval, a lifestyle destination that offers a variety of F&B offerings and themed events.
Punggol Digital District a 50 hectare development that will be integrated with the surrounding residentials areas. It comprises the new Singapore Institute of Technology campus, JTC's business park and commercial and community spaces. Punggol Digital District creates Singapore's first truly smart district to house the key growth industries of the digital economy like cyber security and digital technology.